What You get with Web pros
When you work with Web Pros, Inc. for your new website design or redesign of an old site, you are going to be pleasantly surprised with what our packages include. With our projects, you pay $695, that's it. There is no per page or per hour charge, we quote everyone the same. It doesn't matter if your site is 5 pages, 10 pages, or even 25 pages in size, it's the same price. If you want Flash, CSS, JS or any other scripting options, it doesn't cost you anything extra. If you need 5 photos or 25 photos, you got it, the same price. We'll even include a form emailer and/or logo creation if you need it. With our $695 special, we work on your site until you are completely happy with it, no strings attached.
e-commerce options
If your web site needs a shopping cart to do business online, we can help. Our shopping cart software costs a one time fee of $200 to install and configure up to 20 of your items on your existing web site. We will set up the photos, pricing, size and any other options your cart may need to work properly. Additional items are billed at $2 each. If you choose not to use our hosting service, there is no additional fee. You may use the shopping cart control panel to process your orders and view statistics on how well your business is doing. Give your web site the ability to handle orders online by using our shopping cart technology today.
Current Web Design Projects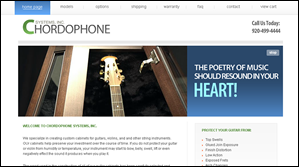 Chordophone Systems
owns a custom cabinet company and wanted to dedicate a web site for custom guitar cabinets. We are creating a Flash header web site with a photo slide show on the home page. People will be able to order using a shopping cart as well.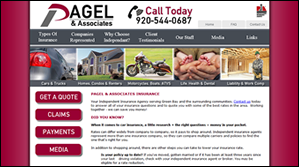 Pagel Insurance
was using a do it yourself web site service and wanted to get a custom site. We redesigned the entire layout, added a flash navigation banner, and elaborated the site with more pages of information.
Completed Web Site Designs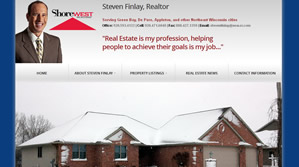 Steven Finlay, Realtor
had a web site for his business for many years but wasn't getting much use out of it. We took the old static design and upgraded to a resizable structure, featured homes with a slideshow and an updated the features listings page.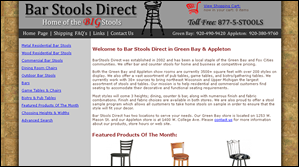 Bar Stools Direct
had an outdated site that was difficult to navigate and didn't have the ability to order online. We created a new design and installed a shopping cart for visitors to purchase stools online. It also allows the owner to manage their inventory online.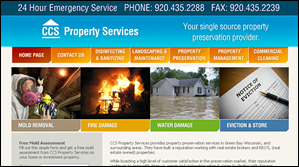 CCS Property Services
lacked that visual "pop" that sites need to attract new customers. We completely overhauled the design by adding a flash header, flash navigation and a free estimate form so visitors could get a quote for CCS's services quickly and easily.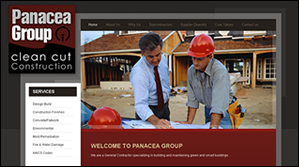 Panacea Group
is a construction company that serves federal government agencies. The owners needed a web site for their business. We created a brand new site using CSS and Javascript. We also designed a custom company logo.
John R Schmit Custom Homes
didn't have a web site and needed to display photos after a house was built to show potential clients his quality of work. We designed a site with a Flash header and organized dozens of photos for visitors to view previous projects.
Lubinski, Reed & Klass
had a site but the regular updates they needed and hosting were very expensive. In order to cut their costs, we recreated a very similar web site to what they had before and installed a blog so they could post new laws and tax codes for visitors to read.